Reading Time:
4
minutes
ENJOY YOUR DATING LIFE INSTEAD OF DREADING IT
MANIFEST THE LIFE YOU BELIEVE YOU DESERVE
FIND THE 'ONE' AND CREATE A LOVE THAT LASTS
You deserve a relationship that makes you happy
You deserve a committed, secure and intimate relationship
You know… the type of relationship and life with passion, affection, trust, and good communication
You are right. Love shouldn't be this hard
You are sick and tired of dealing with less-than-satisfying relationships
You are sick and tired of dealing with the one-night stands, losers, and abusers.
You are starting to doubt your relationships. And the true existence of romance.
The type of romance which transcends past the physical chemistry and someone who feels like a best friend.
You want 'The One' but you are struggling to figure out how to attract a high-quality partner.
Your family is pushing you to settle down and find someone but you feel as if the world has condemned you to be alone.
Or maybe you've recently gone through a breakup or divorce and you are unsure or even intimidated about how you can get back to dating again.
Or how you can come to put your trust in someone new.
Do Any Of These Things I'm Going To Mention Sound Familiar?
You are in stress or crisis
You can't stand insecurity, irritability, or anxiety
You don't have strategies to keep your emotions balanced
You are confused about your goals and priorities
You have difficulties in relationships
Create lifetime habits to develop a happy life
You keep trying to locate a decent companion online, but you either don't receive good matches or no one responds to your messages.
You've experienced multiple ghosting.
You don't know how you should be treated in a fulfilling, healthy relationship.
You think you're imperfect or that you're turning away all the nice catches.
Even though you feel lonely and desire a relationship, dating causes you a great deal of worry, and you'd prefer to stay home and avoid it.
Even if you work hard, your buddies constantly criticize you for not truly putting yourself out there.
You lack the confidence to speak to the attractive person at the coffee shop.
You're sick of using dating apps and are unsure of how to meet people in person.
Every Day I Help Singles and Individuals In Unhappy Relationships Realize Their True Value and Ways They Can Become Smarter and More Strategic Daters
It all comes down to "life and love intent". I believe with everything else in this world that people have found success with, it's through their deepest and strongest intention.
Believing and wanting is not enough. I heavily focus on the power and law of attraction mixed with the sweet push to go out there and put in the work.
Living with intent means that you're looking and really wanting a serious, committed relationship and happy life.
And I and my team are here to help you find it.
I'm a people and relationship enthusiast
You have probably read a blog or two on our website. Relationshipwhatsup.com. My name is Aria Abasian. Although life and romance are complex there are many ways to get around them. Come to take a chance with us and let us make your life better. Together!
Many relationship gurus out there will tell you that they have a Master's in Psychology and they know the science of how a man's or woman's brain functions.
I am no expert. But true passion and eagerness on learning and apply every rule in books and from hundreds of different professionals have transformed my outlook and expertise.
My expertise and experience have led me to write more than 100's of articles on relationship advice and build a team of professionals who are helping hundreds of people looking for life and relationship advice.
Our approach to teaching comes from timeless advice we have all gathered from our difficult and happy experiences in addition to expert data collected by experts in the field.
My belief in research and statistics, which supports our work together rather than simply my "expert opinion" based on my own life experience, is another way in which our team differs from other coaches.
Rest assured that everything I teach my clients is consistent with my personal experiences. I walk the walk as well as talk the talk.
My Dating Journey
My dating journey does not start off from your everyday dating story of a tragic heartbreak.
My dating journey started from being literally invisible to every girl. I had no friends and I was probably the biggest introvert and loser in the world. I had no communication and my hobbies were forcing my parents to take me to McDonald
I was a 16-year-old 5'5″ feet (I'm still this tall) with never hugged a girl or been able to keep a conversation with someone for more than 3 minutes until suddenly something struck me.
I watched with curiosity how some of the people I knew were living lives without a worry in the world. They seemed so flawless in how they talked and lived life. Sure they had abs and were tall and handsome.
I questioned my reality. "He breathes the same air as I do, what rule is there that should differentiate me from him?" – I decided to not accept my supposed reality.
So as anyone that wants to learn anything. I started searching online about self-improvement and talking confidently with girls on Youtube.
Years went by and my consumption of knowledge and practicing these skills grew. I was dedicated to being admired and experiencing love and romance.
At the age of 19, I finally found fell in love. I had conversations with her that lasted hours on end. I had finally found someone who completely matched my energy and humor. However, just a few months later she moved away due to her university studies.
And here I was, believing I lost the world. I wondered if anyone else such as her would come along again.
My journey in dating began again, I wanted to learn more about people and understand myself better.
I began by going on a date here and there. It was uncomfortable because I hated meeting someone I had never known. But as the old saying goes. "You've got to step out of your comfort zone if you want to improve in anything"
I began talking to so many people and learning about women, that I sort of became a relationship coach to my friends who needed advice on their current issues in romance.
After 3 years and with more than 200 dates, self-exploration and coaching I met the love of my life online.
She immediately emerged as my greatest supporter and most excellent friend, she offered me the kind of love I've never experienced even though I thought that the love I had for my Ex was the greatest thing that I lost.
Even after 3 years we still have the sort of love you see in movies, and it's my actual life.
Despite my gratitude, I don't consider myself lucky. "Luck Cheapens a Lot Of Hard Work" – I worked to grow individually and consciously dated a lot of women in order to meet "The One"
We met because of a mix of self-reflection, insight, effort, having realistic dating mentalities, using specific techniques, and dedication to the dating process. It wasn't luck that brought us together.
Because I desire the same for you and am confident that it is doable, I have shared my story.
Your great love is out there, and we can discover it together.
---
In Your Amazing Dating and Life Transformation Journey, I'm Going To Show You Exactly These Things:
Date with intent so that the next serious relationship you enter into will be with someone who has real potential
Develop more confidence, self-worth, and self-love (you attract people who view you in a similar light to how you view yourself, so if you don't value, appreciate and respect yourself, neither will your partner)
Our well-experienced team also provides you with counseling to stop you from ever being heartbroken in a toxic relationship.
Replacing negative patterns with positive ones
Getting motivated to do that one thing you have been procrastinating on
Getting through rough times
Dealing with difficult people
Finding peace
Discovering how amazing you really are
Whatever else is on your mind.. surprise me! I am up for it.
---
Want a Glimpse Into What Is Possible For You? Check Out Some Of The TESTIMONIALS From Our Clients That Took The Action In Rewarding The Life They Deserve
Hylhero Bassi., 28
"This was my first time doing somthing like this. Dave was outstanding and gave me parcticle advice that i could start working on would highly recommened."
---
Salia Sharifi., 26
"Aria and his team were realy helpful. They gave me valuable advice in solving issues in my relationship."
---
Orkhan Vladislav., 34
This conversation was exactly what I needed and I am glad I was led to have a conversation with you. "Iron sharpens iron" and I am thankful you helped me to renew my mind and provide new language for me to meditate on that will produce fruit. Thank you for listening and being authentic. Great service, will definitely reach out again! Thank you!
---
Becky Traffi., 33
This was my first time getting any typepe of consulation. I've got to admit that I was very nervous and skeptical at first. But I loved how they made me feel so comfortable and heard. Would definitly recommend to any one looking for good advice or help.
---
Hannah Reeves., 36
I was quite discouraged about dating and felt hopeless about dating in my forties when I first started working with Samantha. She provided me advice on how to attract the kinds of guys I desired in my life as well as pushed me to be honest with myself about my prior experiences with dating.

I realized under her instruction that I could no longer wait around for someone to come and find me. I needed to take control of my dating life and make it a priority if finding a mate was one of my major life goals.
---
Danielle Kurt., 31
"I loved how they followed up on my situation. It was truly amazing to experience someone who cares so much about people", highly recommend!
---
Jamie Ling., 28
Loved the coach. He gets to the heart of the matter quickly and suggests simple, yet effective tools. I noticed I had a more relaxed, lighter feeling at the end of our call. I will meet with him again.
---
Your ideal partner is out there, but you have to get moving to find them! No more alone Saturday nights. No more wasting time on worthless dates. No more wasting time on unsuccessful relationships.
Are you prepared to discover the love that you deserve and want?
If you're still reading this, then you're likely wondering how this whole coaching process works.
Read down below to learn about the cost and the process.
---
What Consultation Services Do We Offer?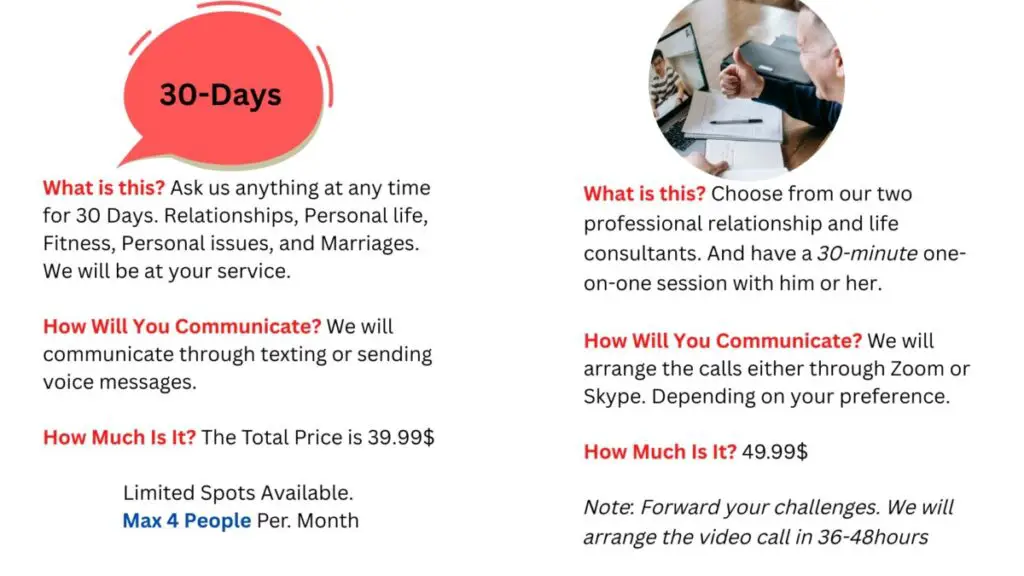 How To Get Started?
1. You will fill out the application down below. This includes an option on what type of consultation you wish to have.
2. Once you submit your application. We will ask you to make a direct payment to our account.
3. Once the payment has been authorized, we will set up your consultation according to what type of service you preferred.
Your entire transformation in this empowering dating journey is what's most valuable, which is why I am dedicated to seeing you get the results you most desire.
We only take on a limited number of clients so that you can have support and access to us.
---
Meet Our Coaches!
Mariana
Paul
---
We aim to give you the best help there is. By working with us in your consultation you can expect these things:
** Instead of dreading your dating life, enjoy it **
** Feel more certain, secure, and self-confident **
** Instead of dating aimlessly and squandering your valuable time, have a goal and a feeling of direction **
** Feel more in control and content **
** Date with greater assurance and clarity **
** Make more significant relationships **
** Due to your improved dating skills, you may prevent future sorrow **
** Determine right away if the person you're dating is "The One" **
Here are a few things you'll need to think through before starting a coaching program:
You must be driven. To make changes, which entails stepping outside of your comfort zone and acting,
You must be open to receiving reflective and constructive feedback. This occasionally entails letting go of what you believe to be true and being open to change.
You must be eager to invest yourself. This course is not inexpensive. You are either not dedicated to the process or you don't see the benefit in it if you don't value this aspect of your life enough to engage in it. It's difficult to put a price tag on no longer being lonely and dealing with that gut-wrenching feeling of seeing everyone else around you happily partnered up