Reading Time:
4
minutes
This post may contain affiliate links which means I may receive a commission from purchases made through links.
You can walk in a mall and spot a handful of good-looking men whom you may fancy to flirt with or date. But it is nothing compared to looking into a man's eyes whom you know you can't even touch and feel a crazy sensation of attraction. It's tempting to chase after this man, what if he's your soulmate?
Would you let an opportunity like this pass you by? In your deepest intuition, you know it's not right to date your friend's Ex-husband. So, let's get into what's right and wrong as well as what to do if you decide to not care about what's wrong.
Let's start off here by answering this question: Can I date my friend's Ex-Husband?
Avoid dating your friends Ex husband because breakups require a lot of time to get over. When you are dating your friends Ex husband it can crush your friend's heart or even worse cause major drama between you and your friend. If you are really considering dating your friend's husband make sure to wait a good while after their break up as well as getting your friend's blessing on dating her Ex-husband
Falling in love with someone you are not supposed to date can be considerably hard. Continue on reading as I uncover more on what's right and wrong as well as what to do if you are really considering dating your friend's ex-husband.
Can I Date My Friend's Ex-Husband
Some friends are fine with their friend dating their Ex husband but some friends consider it crossing the line. Before you consider dating your friends Ex husband consider how your friend would feel about it because the last thing you would want to do is to break your friend's heart
The first step is to find out how your friend might feel about it. The other thing you should make sure of is, what your true feelings are for your friends Ex husband.
Ever since a young age and into our teen and adult lives, we have been told to chase our dreams and what we truly desire. Although that is very inspiring and motivating. sometimes our deepest desires and goals end up just being another emotional urge.
Emotional urges aren't always bad, but at the end of the day, it is an urge. An urge is a very strong impulse that goes beyond our human awareness and logic.
When it comes to "love" and attraction, people sometimes become infatuated rather than in love.
What Is The Difference Between Infatuation and Love?
When it comes to infatuation you are going to feel obsessed, unreasonably aroused, and, let's be honest, a little horny. Infatuation makes you feel amazing most of the time, it may also make you feel uncomfortable since everything is so fresh.
But when it comes to love there is a bond between the lovers. Love is something that's built through time, where you're truly getting to know someone and creating an attachment. You're also developing emotional security with that individual, and you're able to express vulnerability.
Scroll down to see more on Love and Infatuation.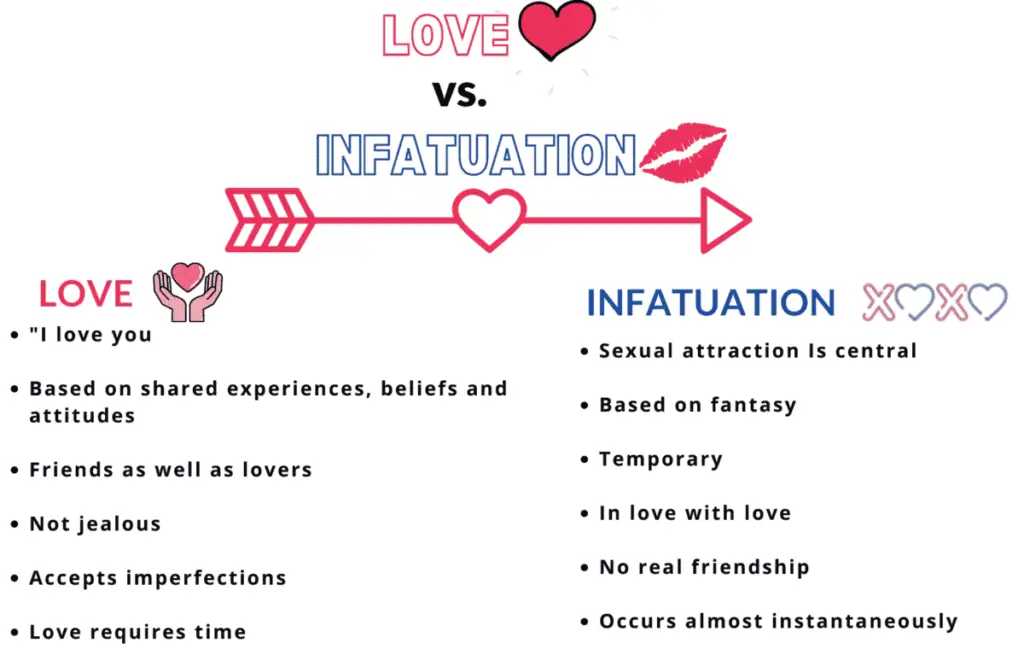 So how can we make sure we are fully centered and aware of what we truly want. The last thing you would want is to rush into something quick and to have your heartbroken.
How Can You Make Sure You Are Infatuated?
There is a fine line between love and infatuation. When you are infatuated, you can't wait to see them again, the sex is great and there is a crazy sense of passion for one another. On the other hand, love is rooted in passion, intimacy, friendship, trust, and support.
Since infatuation is a part of love it is hard to distinguish between each other. Here I will try to help you distinguish between the two and make sure you don't fall into the full trap of infatuation.
| How To Know If You Are Infatuated? | Description |
| --- | --- |
| Craving to be next to the person | An intoxicating effect of lust and excitement. You constantly have the urge to be right next to him and to hold him. But he wouldn't be your first call if you had a bad day, because you are afraid that you will burden him with all your problems, unlike love. |
| You don't know where you stand in the relationship | In love, there is no room for overthinking and second-guessing how the other person feels about you. Love is two-sided, infatuation is one-sided |
| The relationship is all physical | If you have already slept with your best friend's ex, think about the relationship. Is the sex great? Or is it mainly the only thing you can think about? If you find it hard to connect outside the bedroom such as hobbies, beliefs and so on then it's an infatuation. |
His Non-commitment and his decisions to either stay with you or not can be one of the most toxic things. Read Here On What To Do When He Has Commitment Issues
| What To Do If You're Experiencing Infatuation? | Description |
| --- | --- |
| Prioritize date nights more than sex nights | A great physical intimacy can fade away in due time. What doesn't fade away is the emotional connection you build with someone. Go out on a picnic with him or go to a nice fancy restaurant. Really put yourself in a situation where a good conversation can thrive, so you could get to know each other better. |
| Get deep into who he really is with probing questions | Once you've broken the ice and you feel comfortable enough talking with each other, dive into the deeper question. Such as: "Do you envision getting married one day"? "Do you ever want kids"? "Where do you see your life going"? |
| Talk on the phone | Phone calls are a great way in cementing more of your emotional connection with each other. Remember infatuation is strongly based on sex. So the more you connect by talking, the better your chances of coming out of infatuation and truly being in love |
Credits to PureWow
What if she loves you and you really love her too. But you're both married. Find out here what to do when you love her but you are both married
Can I Be Friends With My Best Friend's Ex?
It is absolutely fine to be friends with your friends Ex. The only thing you should be aware of is the circumstances of how their relationship ended. If things ended very badly then it is better to cut complete contact with your friend's ex, out of respect for your friend.
Although many people find themselves connecting and being friends with their friend's ex I believe building a connection and friendship with your friend's ex is a bad idea and a waste of time.
Only try to build rapport and friendship with your friend's boyfriend when you believe they are going to be together forever. There are 750.000 divorces per year in the USA which mean 50% of marriages end in divorces.
Hence it's not a good idea to bet on married couples to stay together forever.
Once your friend breaks up with her ex your first and only priority should be your friend. Out of respect to your friend's feelings, you should avoid being friends with her ex on all conditions besides only if your friend says that it is ok for you to be friends with her ex.
How Long Should You Wait To Date Your Friend's Ex?
You should wait according to how long your friend dated her ex. That is to say, if your friend dated her ex for only 4 months then you can start dating her ex in 3-4 months. But if your friend dated her ex for 3 years then you should wait 2 years until you date him.
I read something like this on the internet and the logic is actually very sound. Basically, the more your friend knows someone the longer and harder it'll be for her to forget her ex. But if your friend was dating a guy for only a few weeks then she would have gotten over him in a few weeks or a month.
When you are considering dating your friend's ex you should find the best solution to not getting her hurt. And the best way is to wait it out. Till the point where she doesn't think or care about her ex one bit.
What To Do If You Like Your Friend's Ex?
Ultimately love triumphs over everything and everyone. It is hard to resist falling in love I understand. I mean it may be wrong to date your friends ex, but what if this man was meant to be your soulmate?
I have mentioned everything that could go wrong if you decide to date your friend's ex. But if "No" isn't an option for you then stick around as I will be sharing a step-by-step guide on what to do if you want to date your friend's Ex-Husband.
1) Know What Your True Feeling Are For Your Friends Ex-Husband
Our feelings can sometimes be deceptive and falsely heightened when it comes to dating and love. The last thing you would want to do is to go through all these risky processes and see that the guy is a jerk and you don't even like him.
2) Make an Assumption On Your Friend's Feelings For Her Ex-Husband
Don't just approach your friend out of the blue and confess all your feeling about her Ex-Husband, this will definitely stifle her and throw her off.
Instead, try to analyze where she stands in her life and romantic life. When you see that she's doing super great and she hasn't shown any thought about her Ex-husband for a very long then this would be a better opportunity to approach her about the subject.
3) Approach Your Friend About It
Once you are fully certain that your friend is over her Ex-husband make your move and ask her about it.
The best way to go about it is to be as direct and straightforward as possible. An open honest conversation works best. Don't beat around the bush about it or try to throw in any hypothetical questions.
Ask your friend like this: "I feel like there is something between me and your Ex, and I think I kind of like him. I wanted to talk to you before things went any further."
Don't ask your friend this: "Hey I hope you don't mind I've been texting your Ex from time to time and I've been thinking of going out with him, I know you guys weren't that serious anyways"
4) Give Your Friend Time To Digest The Information
It might sometimes be hard for your friend to process and accept what you just asked her. So if she needs time, give her the time but ask for a deadline.
If your friend seems a bit startled, one thing you can do is to set the mood straight and to tell her what she wants to hear:
Tell your friend this: "I'm so sorry that you had to hear this, but I really like him. And because you mean so much to me I could never talk to your Ex without your blessing. Try to think about it and tell me how you feel. Love you so much".
Your friend may be completely fine with it or she might be completely against it. If she is against it you got to really evaluate which relationship is more important to you. Because at the end of it you would lose either your friend or your friend's ex. Your choice.
5) Approach Your Friends Ex Through Instagram Direct
Now we get to the more exciting part. There is no exact best way to reach out to your crush. If you guys bump into each other from time to time, either in a social class or on the way to work, then it is pretty easy to strike up a conversation on going out.
But if you haven't happened to suddenly see your friend's Ex outside, the best way to get in touch is to slide into his DM's through Instagram. React to his stories and from there strike up a conversation.
Learn here how to win his heart by doing these two things!
6) Don't Mention Or Bring Your Friends Around Her
If all went well, you should have in mind some rules. Never mention or bring your friend's ex around your friend.
Even if your friend was absolutely fine with you dating her ex, it's best if you avoid bringing or mentioning your friend's ex.
The reason behind it is that people move on but the history that one shared with their ex stays with them.
Conclusion
There isn't really anybody there that can tell you who you can and can't date. But when it comes to dating someone like your friends Ex, expect to be presented with some obstacles and consequences 
When it comes to dating your best friends Ex, it really turns into something like an opportunity cost. Where you have to give up something in order to acquire something else. At this point you've got to really consider which relationship is more important to you.
Even if your friend says she's fine with you dating her Ex, no one can really tell what destruction and drama this new found relationship may bring into your friendship with your friend.
Ex's are hard to forget and to fully let go. Once you date your friends Ex, your friend could lose it by getting jealous of this relationship.
Hey guys! my name is Aria Abasian and I'm the co-founder of relationshipwhatsup.com. Around 5 years ago I came out of a relationship which I wasn't too happy about. Afterward, I decided to start kicking ass in life and in relationships. Getting to understand people around me better as well as myself. This has allowed me to share with you all my knowledge on Love, Romance as well as complications and problems in relationships.